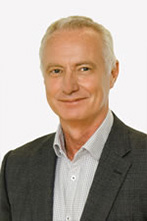 Neil Buckley
Neil is the Chief Executive of the Legal Services Board (LSB) and an Executive member of the Board. The LSB is the oversight regulator for the legal regulators in England and Wales. It is independent of Government and of the legal profession.
Before joining the LSB, Neil was Director of Investigations at Ofcom, where he led a team responsible for enforcing competition law and the regulatory rules that apply to the communications sector. The team was also responsible for Ofcom's dispute resolution functions. His previous roles at Ofcom included Director of Consumer Policy.
Neil qualified as a Solicitor in 1990 and worked for a number of law firms in the City of London, specialising in international private arbitration.
Neil has a Master's degree in Regulation from the London School of Economics and an undergraduate degree in law from Hertford College, Oxford University.